2022 was another successful year in SALT's book! As the world started to open back up, SALT staff traveled to a few different countries to work with its local partners to apply the Traceability Principles, foster collaboration, and speak about traceability best practices to a wide range of audiences.
Here are SALT's 2022 successes in a snapshot.
Sharing and Improving the Traceability Principles
SALT presented at 15 global and regional events to share the Traceability Principles and SALT's work in its fifth year. Check out SALT's Youtube channel to catch some of SALT's presentations! We also created 24 products to support learning about comprehensive electronic traceability, and added 160 resources to the Dive Deeper resource library—exceeding numbers from previous years to make this one of SALT's most productive years! With the feedback and lessons from 2022, we are revising the Traceability Principles this year. Stay tuned for Traceability Principles 2.0!
Learn More
Where in the World?
SALT engages with multiple traceability initiatives around the globe, but where exactly does SALT work? To answer the question, we created the 'Where We Work' page to show current and past sites where SALT has visited and where substantial effort has gone into supporting electronic traceability programs. Select the country or the region, and scroll down to 'learn more' to see all the updates. We have been busy!
Learn More
Continue Growing the SALT Community
SALT created the Traceability Principles and Pathway for the seafood industry, seafood producing country governments, and NGOs that work to improve seafood traceability programs. They are crucial stakeholders to strengthen the effectiveness of fisheries management, support legal and equitable work conditions for seafood laborers, and identify and prevent illegal and mislabeled products from entering markets. SALT's events and activities are strategically designed to engage those key audiences. At the end of SALT's fifth year, almost half of our community members are from those target groups!
Growing Community, Growing Website!
SALT's website marked the highest number of visitors in its fifth year. We had over 9,000 unique visitors from 164 countries! Resources hosted on Dive Deeper, the website's traceability resource repository, were downloaded 592 times, and Story Hub, SALT's blog pages, was viewed 2,885 times. In addition to its website, SALT's Youtube videos—which include short video clips and webinar recordings—had over 1,000 views!
Empowering Counter IUU fishing, Social Responsibility, and Traceability Efforts Around the Globe
SALT continued to expand Seascape, an interactive map of counter-IUU fishing, social responsibility, and traceability efforts. With over 200 efforts added to the map, you can find collaborative partners and experts near you or anywhere in the world! We gave a facelift to the Seascape map based on the feedback we received from the community. Seascape 2.0 includes new filters which allow users to search by topics, category, and multiple regions and search such issues as what countries signed the Agreement on Port State Measures (PSMA).
Learn More
Tapping into Labor KDEs
As awareness about human and labor rights abuses within the seafood sector has grown, so has interest in determining whether data currently being collected could be used to identify human and labor rights risks. Is there a small set of additional key data elements (KDEs) that could shed light on risks? SALT organized a roundtable discussion with labor rights organizations to explore the issue. If you are new to social responsibility issues in seafood supply chains, check out SALT's podcast series, A Dash of SALT. We invite experts to discuss the correlation between environmental and social responsibility in this global industry.
Learn More
SALT's dedicated staff is our vital asset and the powerhouse behind all these achievements. SALT staff share their favorite moments from 2022.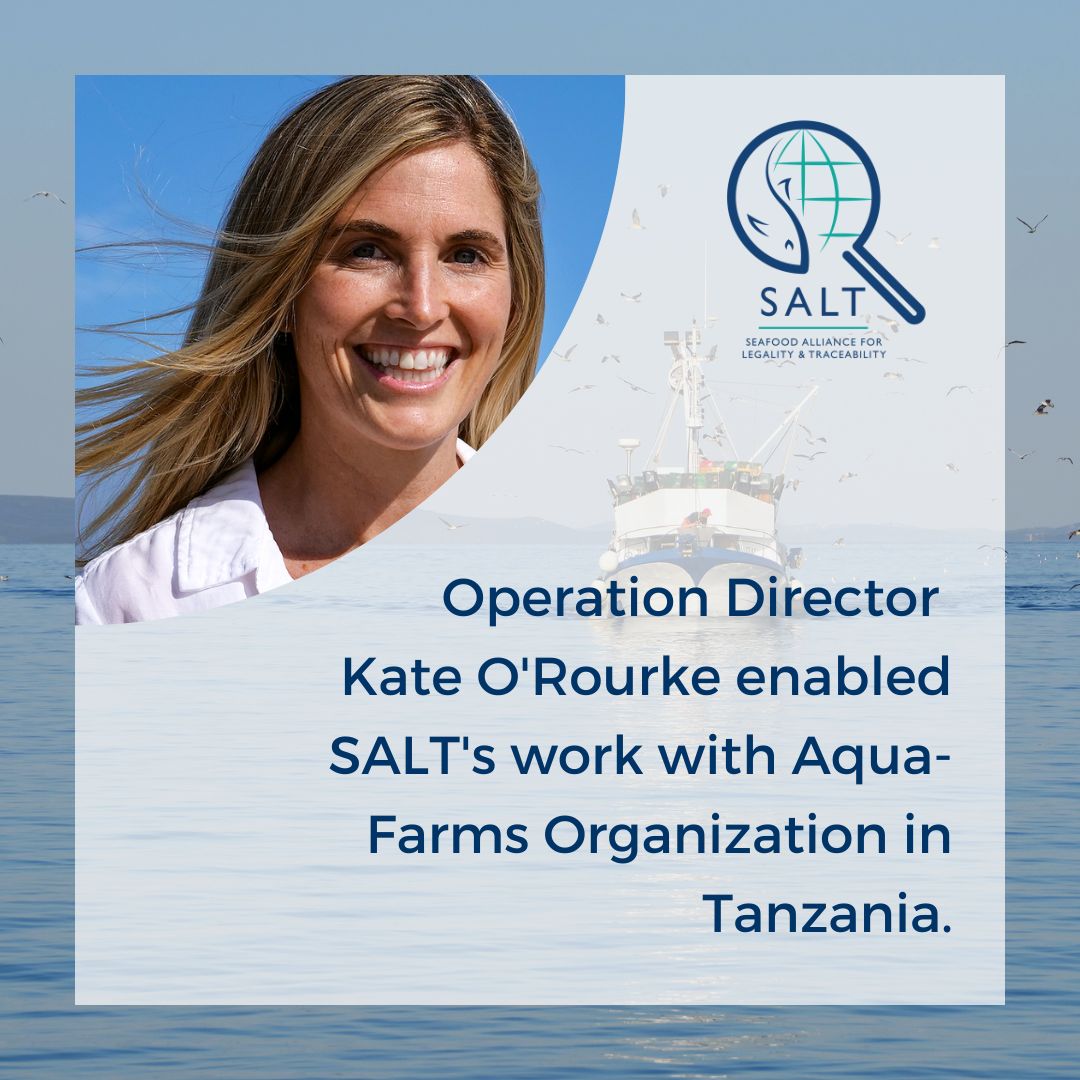 Shaping the first application of the Comprehensive eCDT Principles & Pathway is a serious undertaking. Kate O'Rourke brought her systems thinking and co-design experience from her background in global development to the electronic traceability work. Kate traveled to Tanzania, to present the project at the Fisheries and Aquaculture for a Vibrant Blue Economy conference, and again to co-lead the co-design workshop.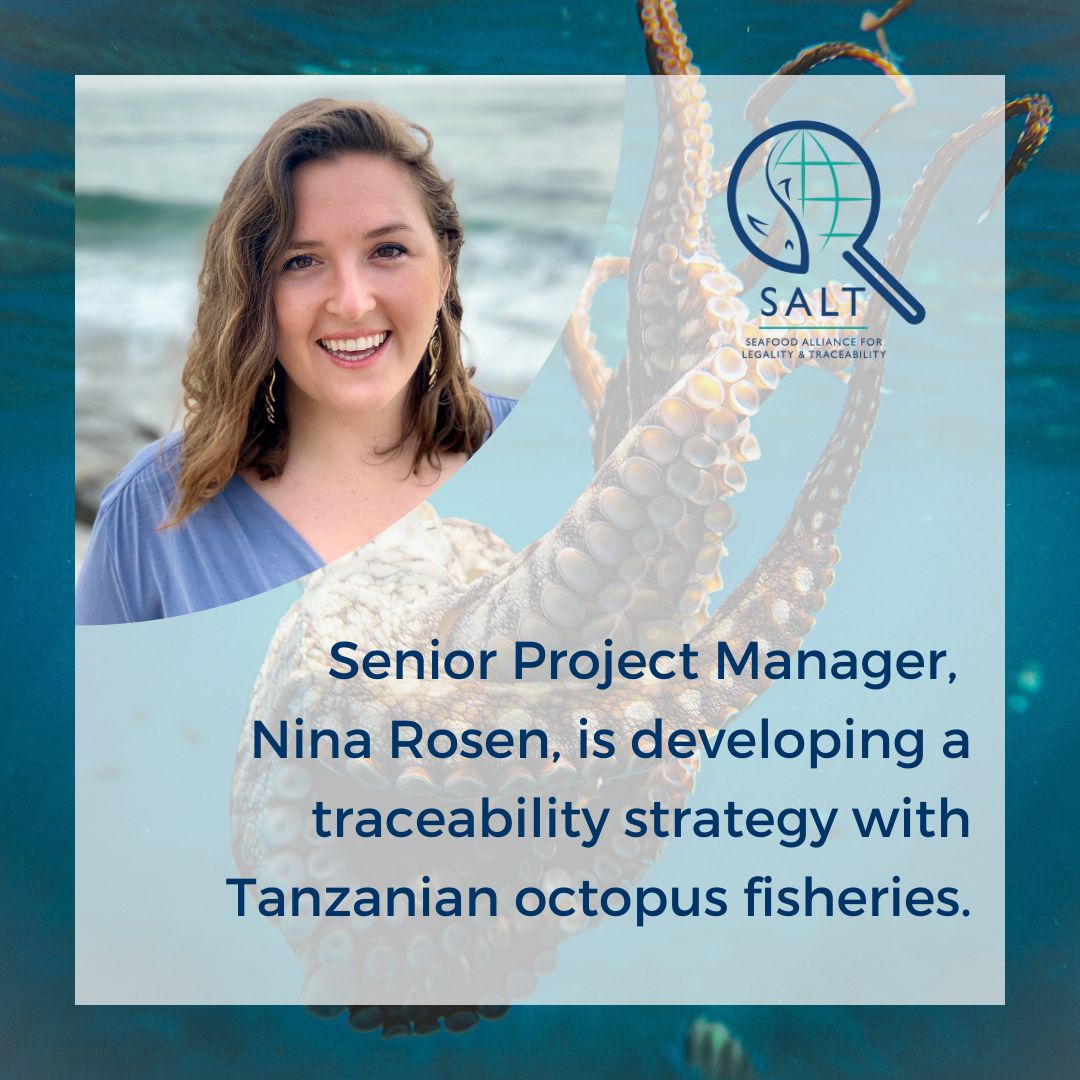 SALT's work in Tanzania this year has brought momentum to the development of an electronic traceability system for a small-scale octopus fishery in Kilwa. Nina Rosen introduced the Traceability Principles and its pathway (co-designed in part with the Tanzanian fisheries government in 2020) to stakeholders in Tanzania. Nina traveled to Tanzania twice in three months to prepare for the co-design workshop by organizing logistics and meeting key partners.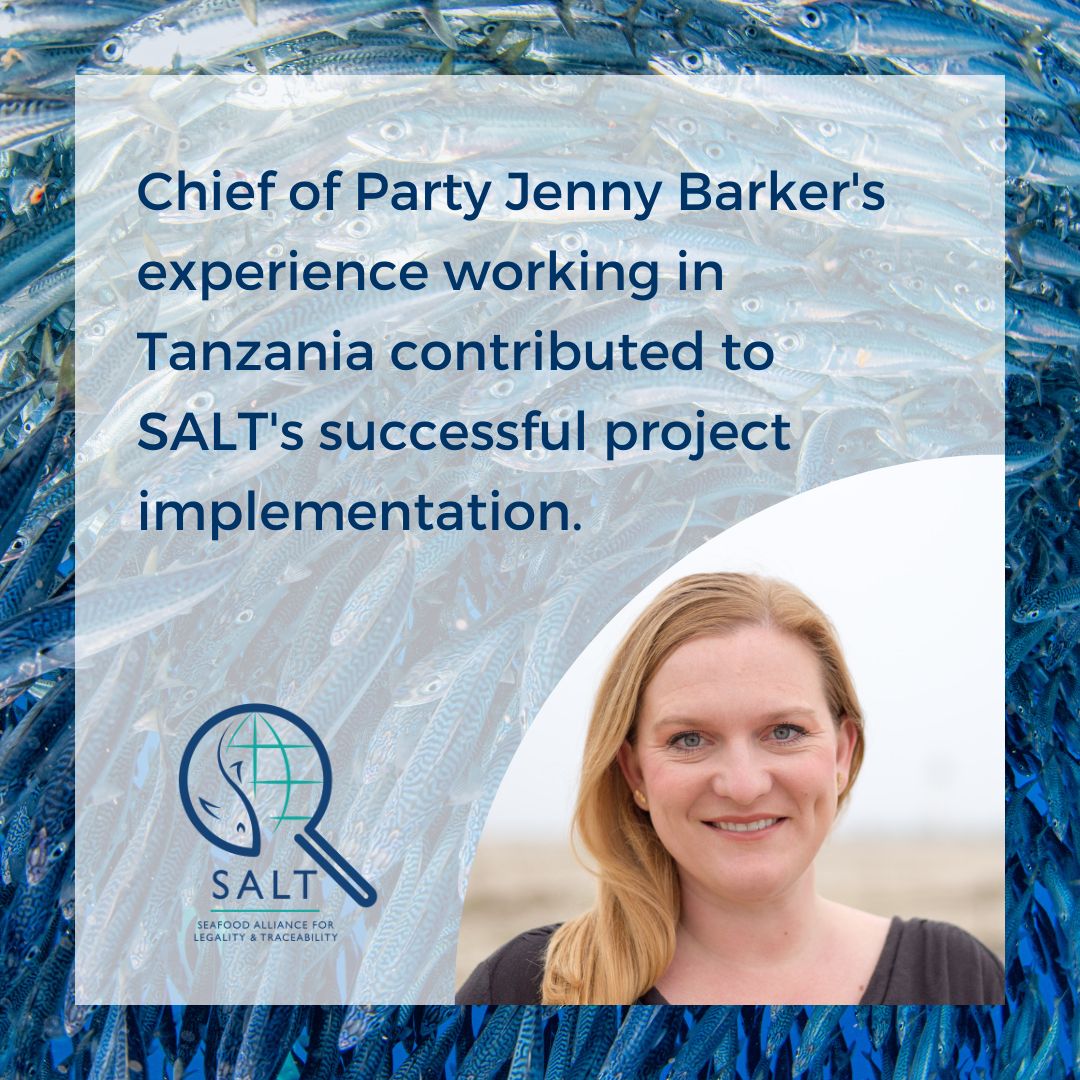 While there were many highlights in SALT's fifth year, returning to the field to work with the government, fishers, and industry in Tanzania was a highlight for Jenny Barker.  Jenny had worked extensively in Tanzania 15 years ago, so to return to utilize SALT's Traceability Principles for the first time was inspiring. Having the opportunity to fully apply the principles to support seafood legality and livelihoods in Tanzania was her highlight of 2022.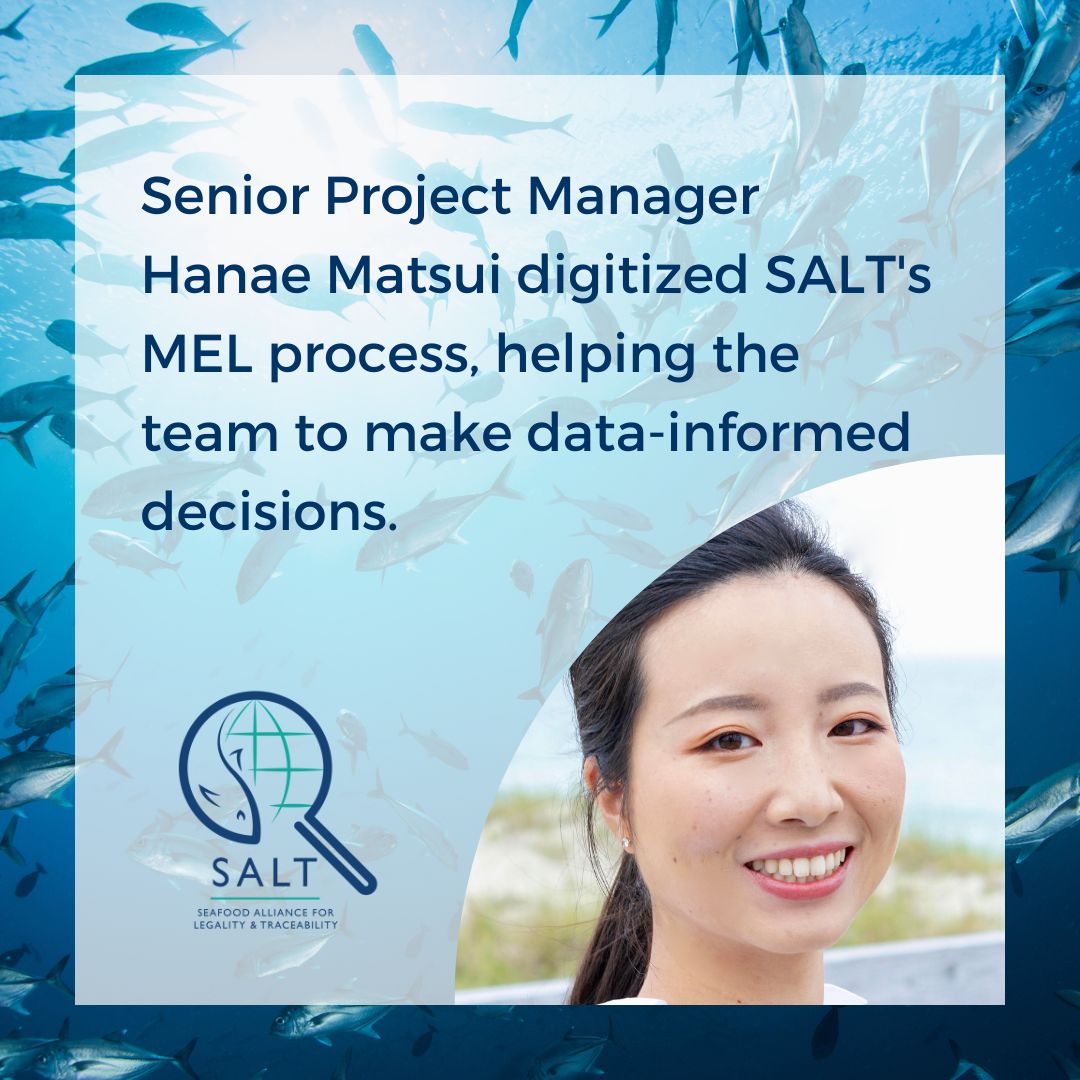 To capture SALT's achievement and impact, SALT implemented a monitoring evaluation and learning (MEL) process from the beginning of the project. With support from FishWise's IT team, Hanae Matsui digitized the tracking process to create a real-time progress view in SALT's contact database system. This allowed the team to check the progress toward performance indicators and make informed decisions when planning activities. 
Stay tuned for SALT's Year 5 Annual Report!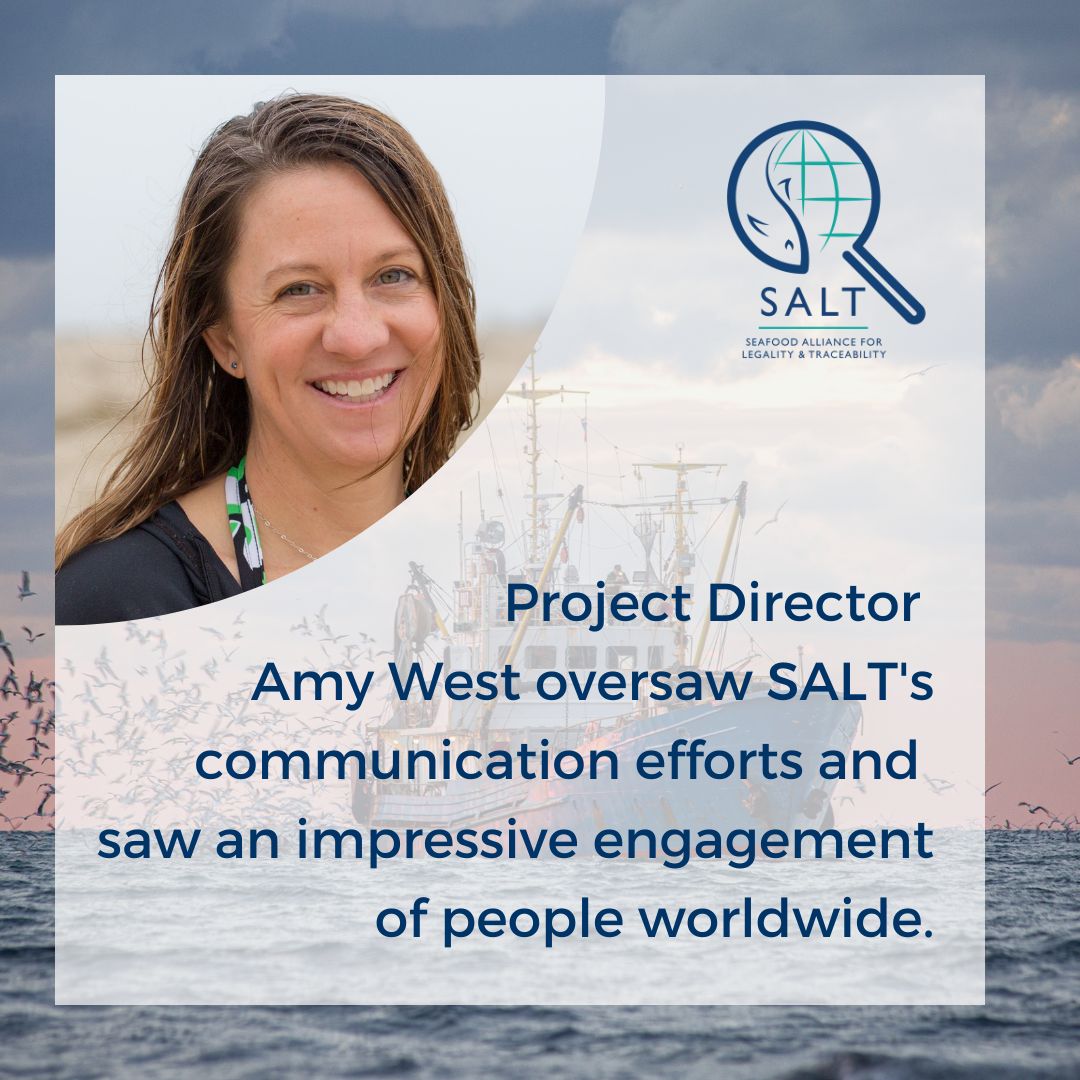 With a small but mighty staff, SALT produced an impressive amount of helpful traceability products the past year. FishWise partners and those outside the SALT community recognised their value, and used or promoted them in conferences around the world–validating their importance in advancing electronic traceability. Amy oversaw the publication of all those materials. Having also led the creation of SALT's website, Amy's highlight was the sheer number of visitors from around the world to the website, reassuring her this knowledge she helped create would live on well past SALT.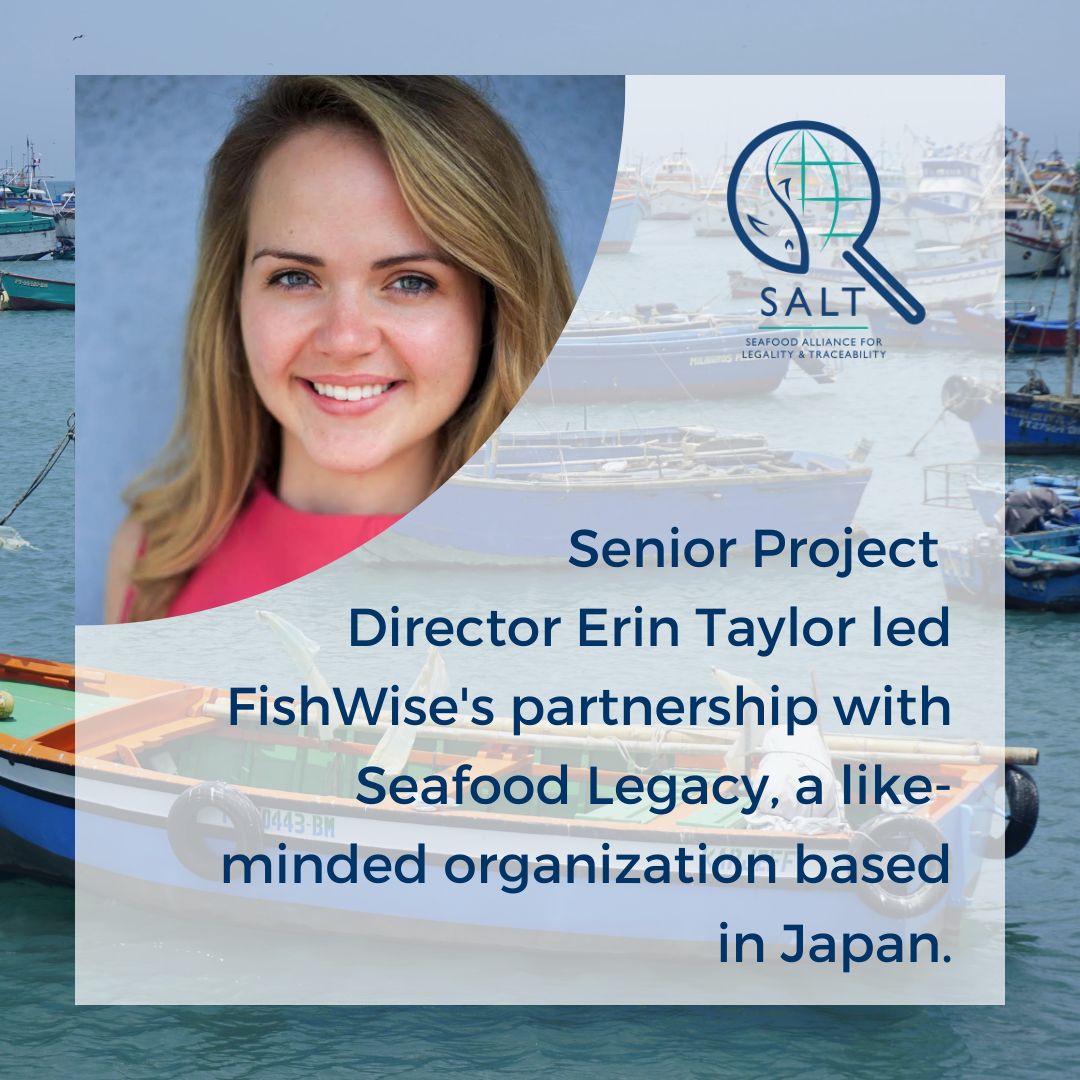 Leveraging FishWise's expertise in human and labor rights and the business and government networks of Seafood Legacy in Japan, FishWise and Seafood Legacy signed a Memorandum of Understanding in 2022 to promote social responsibility in the Japanese seafood industry.FishWise and SALT's support of Seafood Legacy, led by Erin Taylor, helped build educational capacity for its staff and business partners regarding best practices related to human and labor rights issues. This culminated in a Human Rights Due Diligence session moderated by Erin at the Tokyo Sustainable Seafood Summit in October.
SALT is a public-private partnership between USAID and the Packard, Moore, and Walton Family Foundations and implemented by FishWise. Curious to learn more about FishWise's 2022 achievements? Visit their website at https://fishwise.org/a-celebration-of-our-staffs-achievements-in-2022/
We are now in SALT's final year ande gearing up for the big finale! Please subscribe to our newsletter and follow us on social media to receive the latest updates from us. We are planning virtual and in-person events to share our knowledge and learnings, connect like-minded stakeholders to encourage collaboration, and support capacity building. If you have any questions or comments, please do not hesitate to contact us at SALT@fishwise.org. 
Happy 2023!