Information is Power
Information about the fish on our plates has the power to help prevent mislabeled and illegal, unreported, and unregulated (IUU) products from entering the market, improve fisheries management, and support equitable working conditions for seafood laborers.
Seafood Traceability
The ability to track and verify information about the origin and journey of seafood products as they pass through the supply chain is called traceability. Seafood is one of the most heavily traded commodities around the globe, often passing through many hands. This long and complex journey from bait to plate makes it difficult for product information to be recorded accurately, consistently, and shared openly throughout each step in the supply chain. 
For companies that buy and sell seafood, the lack of product origin information and supply chain transparency can pose significant risks. These businesses can use traceability as a tool to collect seafood product details and leverage this information to reduce the risk of illegal and unethical activities in their supply chains. Moving towards electronic traceability throughout the entire supply chain creates a path to efficiently share standardized data. Ultimately, a verified and traceable supply chain can improve product recalls and give greater confidence that products are accurately labeled, legally harvested, and comply with responsible labor standards.
Where We Start
Catch Documentation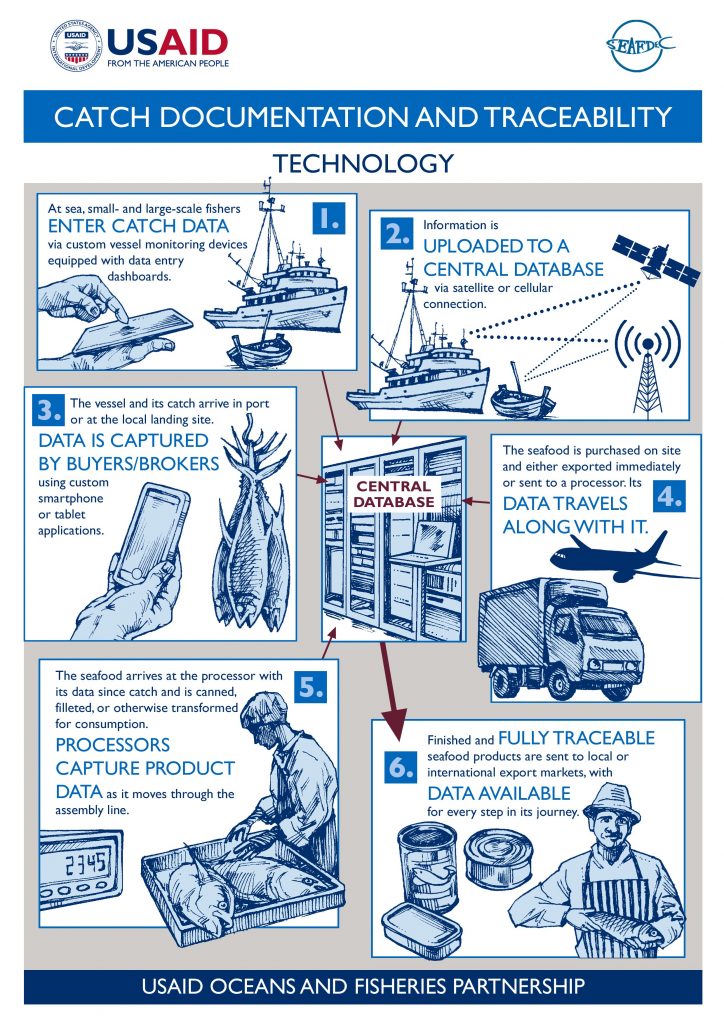 Catch documentation starts at harvest. For wild-caught seafood, that involves collecting information for each harvest that identifies what was caught, where, how, when, and by whom. Collecting this type of information helps verify the legality of each fishing effort, and provides scientists and fisheries management agencies with a better picture of the state of our fisheries.
Currently, seafood harvest data is primarily handwritten on paper documents. This process is inefficient for data transfer and management and is susceptible to transcription errors and the loss of documentation. The goal for catch documentation and traceability is to be in electronic form. If information can be collected and digitally entered at harvest, it can be transferred with greater speed and accuracy to other people in the supply chain and to regulators for better fisheries management. 
Catch documentation is just the first step in a series of steps that seafood takes. The continuous sharing of electronic catch data through the supply chain supports overall seafood traceability. Additionally, vessel monitoring by satellite and electronic monitoring of the catch by sensors onboard helps verify the seafood's path. Verifying the data assures the seafood's actual path, and helps leads to a sustainable fishery.
This overarching system of electronic catch documentation and traceability (shortened to "eCDT") is an important goal that all seafood stakeholders must work together to reach. 
When referring to comprehensive eCDT,  SALT means the system must include 1) ecological data for better fisheries management, and 2) operation data to comply with import regulations and protect against illegal behavior at sea. SALT aims to advance the goal of establishing electronic traceability systems that benefit our ocean economy, environment, and seafood workers by highlighting two areas:
What stops those from adopting a digital traceability system? What are the incentives for establishing one?
When designing a traceability system to also include benefits for fisheries managers and human and rights labors, what are the defining guidelines?