Traceability Traps & Triumphs – SALT Event (Virtual)
September 28, 2020

-

September 29, 2020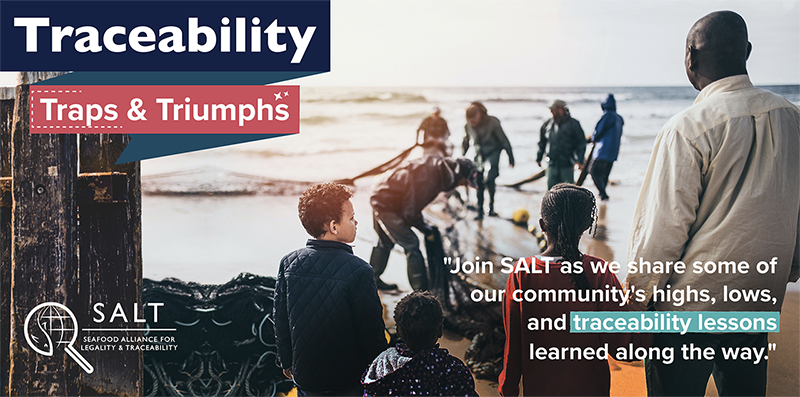 SALT invites you to join us for Traceability Traps & Triumphs, a special event exploring the struggles and successes in the field of seafood traceability. Hear directly from experts around the world as they share their experiences.
View the event recordings below and continue to participate at any time by joining the Thoughtexchange conversation. Share your own Traps & Triumphs to help our community tackle seafood traceability together.
Session 1: September 28th, 9:00 pm EDT – 10:00 pm EDT
Stephani Mangunsong – Independent Expert, formerly of MDPI
Cristina Velez Srinivasan – USAID, Regional Development Mission for Asia
Becky Fontanilla – Freelance Consultant, Philippines
Session 2: September 29th, 12:00 pm EDT – 1:00 pm EDT
Teresa Ish – Walton Family Foundation
Momo Kochen – Future of Fish
Celeste Leroux – Virgil Group LLC
Cecilia Blasco – SmartFish
SALT does its best to ensure the information posted on the events calendar is timely and accurate. Though we may post new developments, please visit the event website for the most accurate information. SALT does not endorse any events contained within the calendar; all language used in the description is from the event website.