Part 2. Maximizing the Power of Technology: Achieving Interoperability and Addressing Data and Verification Needs in Seafood Supply Chains
April 19 @ 12:00 pm

-

1:30 pm

* This webinar is a part of the SALT Seafood Comprehensive Traceability Principles Webinar Series.
About This Webinar:
Theme: Data & Technology
Digitizing traceability is paramount, but where to start is the requisite question. Because data holds significant value to many stakeholders, digitizing data requires alignment across the stakeholders to safely and equitably collect, store, and share the data without compromising workers' rights. Also, a lack of interoperability creates gaps in the different systems used in the supply chains and prevents seamless and effective data exchange.
During this webinar, SALT will introduce two of the six Principles that are important in digitizing a traceability program.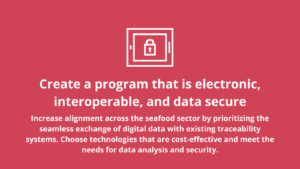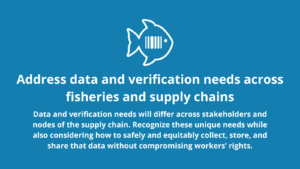 In addition to learning details of these principles and how to apply them, participants will hear from SALT's partners on how these Principles are adopted into their traceability works.
---
Time & Date:
April 19, 2023 (Wed)  9:00 am – 10:30 am / California (PDT)
April 19, 2023 (Wed)  4:00 pm – 5:30 pm / UTC
Agenda & Speakers:
Panel presentations followed by a live Q&A session and small group connection to share and discuss participants' traceability challenges and opportunities.
SALT Traceability Principles Presentation
SALT partners presentations
Live Q&A
Small group connection (breakout session)
Sarah Caldwell

Project Director
Seafood Alliance for Legality and Traceability (SALT) / FishWise


———————————————————————————————–
José Alvarez

Officer of Traceability and Fisheries Information Systems
WWF Peru
———————————————————————————————–
Evelyn Luna Victoria

Manager
WWF Peru Oceans Program

———————————————————————————————–
TBC

———————————————————————————————–
---
Back to the webinar series landing page

---
Back to the webinar series landing page

SALT does its best to ensure the information posted on the events calendar is timely and accurate. Though we may post new developments, please visit the event website for the most accurate information. SALT does not endorse any events contained within the calendar; all language used in the description is from the event website.